The Ultimate Helicopter Tour (17-20 Minute Tour)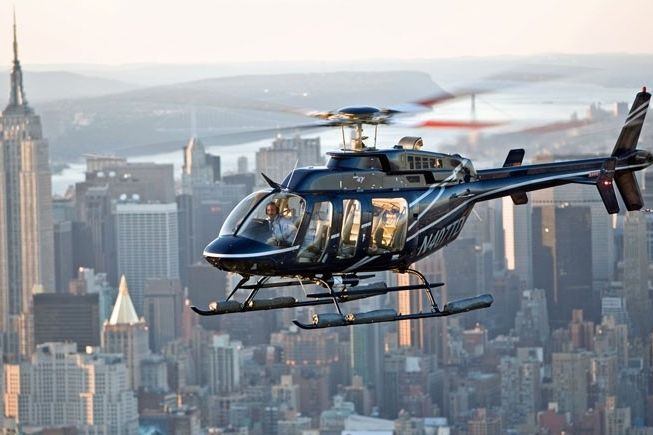 TOUR DESCRIPTION
Check out all the sites and landmarks that make New York famous, as you soar above the Hudson river -- including the Statue of Liberty and the George Washington Bridge among many others -- with our Ultimate Helicopter Tour!
Seated in comfort, take in an extended harbor excursion that includes the sites of the famous New York Harbor and a distant view of the Verrazano Bridge. Your journey in the sky will give you an up-close view of the Statue of Liberty, take you near the 150-year old Brooklyn Bridge, South Street Seaport, Governors Island and Ellis Island. Enjoy the sights of the Chrysler and Empire State Buildings, Chelsea Piers, Jacob Javits Convention Center, the Intrepid Sea, Air and Space Museum, Central Park and One World Trade Center. Cruising up the Hudson River, behold the man-made miracle of the George Washington Bridge and nature's astounding New Jersey Palisades. You will view landmarks such as Yankee Stadium (on non game days), Columbia University and Harlem. All the sights mentioned above make this tour an award winner and ranked #1.
MORE INFORMATION
The Ultimate Helicopter Tour (17-20 Minute Tour)
Downtown Manhattan Heliport, Pier 6
Regular Season
Monday: 9:00am – 5:30pm
Tuesday: 9:00am – 5:30pm
Wednesday: 9:00am – 5:30pm
Thursday: 9:00am – 5:30pm
Friday: 9:00am – 5:30pm
Saturday: 9:00am – 5:30pm
Sunday: Closed
Winter Season (Jan 9 - Mar 31)
Monday: 10:00am – 4:00pm
Tuesday: 10:00am – 4:00pm
Wednesday: Closed
Thursday: 10:00am – 4:00pm
Friday: 10:00am – 4:00pm
Saturday: 10:00am – 4:00pm
Sunday: Closed
Reservations are required after you complete your booking; Call +1-212-355-0801 to make your reservation.
Please arrive 30 minutes before the scheduled fight.
Please remember to bring a valid government issued photo ID for boarding.
Price includes $40 facility fee and fuel surcharge per seat.